Toyota military program Tuscaloosa AL


TOYOTA MILITARY PROGRAM
For everything you give, we want to give something back.
Inspired by your courage and commitment, we are offering a $500 rebate to eligible U.S. military personnel. This rebate can be used toward any new Toyota vehicle purchased through your dealer and Toyota Financial Services.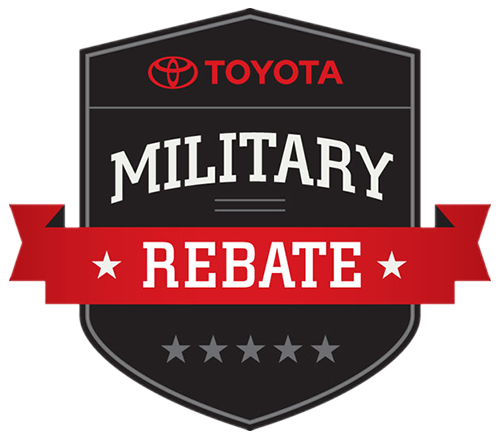 Because the sacrifices don't stop at the front lines we are also extending our Military Rebate offer to household members of eligible U.S. military personnel, including Gold Star families.
The Military Rebate offer is available to:
U.S. military personnel
Household members of eligible U.S. military personnel (including Gold Star families)
U.S. military retirees (within 1 year of retirement)
U.S. military veterans (within 1 year of discharge)
To take advantage of the rebate, you must:
To qualify for the rebate, you'll need to meet the following graduation, employment, insurance and credit criteria requirements.
Provide verifiable proof of military status or active service at the time of purchase:
Leave and Earning Statement OR
Military ID card OR
DD Form 214, Certificate of Release or Discharge from Active Duty
Have graduated from an accredited two-year trade or vocational school during the last two years or will graduate within the next six months
Receive a qualifying salary
Receive credit approval by Toyota Financial Services through a Toyota dealer
For more information, visit the Toyota dealer nearest you using our dealer locator.
1The $1,000 Military Rebate must be used as a down payment on a retail installment contract or as a capitalized cost reduction on a lease contract with Southeast Toyota Finance. Southeast Toyota Finance will include the reimbursement amount of $1,000 in the dealer reserve statement for each Military Rebate issued (one Military Rebate per customer only). Customers must be an inactive Reserve or in current active duty status in the U.S. Military (Air Force, Army, Coast Guard, Marines, National Guard, Navy, and active Reserve) or a U.S. Military inactive Reserve (i.e. Ready Reserve) that is part of the Individual Ready Reserve, Selected Reserve, or Inactive National Guard or a Military retiree within one year of retirement or honorably discharged veteran of the U.S. Military within one year of their honorable discharge date or a household member of an eligible U.S. Military personnel. "Household" refers to family members living with the qualified military personnel. Eligible up to one year from honorable discharge. Verifiable proof of military status, proof of active service, or inactive Reserve status is required at the time of purchase.
Offer valid during ad duration only. This offer is subject to credit approval by Southeast Toyota Finance. All other terms and conditions of the Southeast Toyota Finance Military Rebate Program apply.